Community of Knowledge - the Platform for Knowledge Management
Since more than ten years the Community of Knowedge is publishing about Knowledge Management and its issues. Meanwhile it reaches a broad German speaking community. Now we want to go beyond the scope of the German speaking borders, widen our community and bring together discussions and best practices about a topic which concerns all of us. Knowledge Management is on a global scale and it will affect our future business as well as private life in many ways.
Some content is already translated, especially in our Service and Community category. We will not translate all our articles but strive towards more new english content. To broaden our community we need your help in contributing with new articles and stories about what knowledge management does to you. If you are interested in joining, contact info@community-of-knowledge.de
---

Paper
17. January 2014 by MD Lukas Michel
The Global Peter Drucker Forum 2013 in Vienna (www.DruckerForum.org) has clearly concluded that current managerial practices in many organizations are ill suited to cope with an increasingly complex world. Moreover, they make insufficient use of the knowledge of highly qualified talent in their organizations. The many experts and leaders from all over the world agreed that traditional management requires a fundamental rethink to address these issues. Simultaneously participants asked themselves, why current reality in organizations is so far away from these insights and perceived consensus at the conference. Why can't leaders translate that knowledge into action? The intuitive response: managerial principles, invented 100 years ago for the industrial age, are of limited use to support organizations and people in the knowledge era. So, what does this mean for the management practice in organizations? [more]
---

Paper
11. December 2013 by Ph.D Kutty Kumar
Implementation of Information and Communication Technologies (ICTs) has changed the way people access and communicate information. Users want easy and instant access to relevant information, putting pressure on Library and Information Science (LIS) professionals to think out of the box for meeting their information needs. Application of mobile phones to provide library and information services are a significant step in this direction. Present paper aims to explore the application of engineering college library services through mobile technology to library users. [more]
---

Paper
08. August 2013 by Sally Knipe
Data that already exists can be a useful source for researchers, provided that the mining or collecting of the data is undertaken with a clear understanding of the possibilities and limitations of the information gathered and analysed. Analysing existing data adds to the knowledge that has already been acquired, and in some cases may 'pull together' knowledge. Government departments' national and international organisations collect large amounts of data that could be used for research purposes. Mining data provides trends and patterns that are very complex, and, finding a method to present this data, for publication to a broad readership, can be challenging. This article reports on the use of data trees as a representation for presenting data extracted from large data sets and presents a concise model for publication. [more]
---

Paper
12. June 2013 by Inès Chaabouni, Anis Jarbouri
This study investigates the relationship between board of directors and company's capital structure in context of Tunisian firms. Our research paper covers information about 73 public limited companies for the fiscal year 2010. A multiple regression analysis has been used to examine the linkage between the level of debt and board of directors traditional features on the one hand and its competencies and skills on the other hand. Measures of board's traditional characteristics employed are size of the board, its independence and duality of leadership. However, skills of the board were measured by competencies of directors, its relational network and presence of bankers in the board. Results reveal that the size of the board and its independence positively and significantly affect the level of debt. However, the variability of that is better explained by cognitive dimension of board than by its disciplinary perspective. In fact, there is a positive relationship between the level of debt and its skills and network. [more]
---

Paper
09. April 2013 by David Gurteen
The Gurteen Knowledge Café brings a group of people together to have an open, creative conversation on a topic of mutual interest to surface their collective knowledge, to share ideas and to gain a deeper understanding of the issues involved. Ultimately the conversation should lead to action in the form of better decision-making and innovation. [more]
---

Open Journal
02. July 2012 by Shaked Spier
In the call for papers for the Open Journal's 5th issue, with the title "Tops and Flops - Case Studies of Knowledge Management", we focused on KM practice.
We chose five examples out of the submitted papers, which represent the diversity of KM application-fields.
Amongth the interesting articles we have two articles in English. The first is by Milad Jasemi and Morteza Piri from Iran and the second is by Aleksandar Ivanov from Germany.

The Journal is available as PDF under a CC-License.
---

Paper
27. June 2012 by Aleksandar Ivanov
Forecasting new products is hard for a retailer like Tchibo. There is no past data to use in statistical models, consumer surveys and test sales are expensive. Tchibo decided to apply Social Forecasting - a new approach from the Enterprise 2.0 area. Social Forecasting utilizes the knowledge of employees and transforms it into hard numbers, e.g. sales forecasts for new products. With Social Forecasting Tchibo was able to achieve extreme cost savings while maintaining a high accuracy in forecasting demand for new products. [more]
---

Paper
27. June 2012 by Dr. Milad Jasemi, Morteza Piri
In this paper after a review on the concept and literature of knowledge management, the conceptual model of a successful knowledge management system that is currently being applied in a research and development organization is presented and discussed. The main contribution of the paper is presenting the model in its useful and practical status without becoming involved in theoretical discussions that have different shapes but similar meanings. [more]
---

News
14. March 2012, by Shaked Spier
Since last year the C-o-K is financed and operated by the Intakt Umwelt Stiftung. We can maintain the Community of Knowledge, its service and its content only with a minimum expenditure of time and costs. However, we would like to be independent from one financer and we have many further ideas that we wish realize. Pumacy Technologies AG has registered as our first sponsor and we are looking forward to get in contact with new ones.
We offer various sponsoring and advertisement options with immediate effect. Our Newsletter, the Open Journal and even your own page with a detailed description of your firm - all these and many further options are available. In the last 12 years the Community of Knowledge has become a well-known and highly frequented platform.
Unfortunately, the deadline for an 'early bird discount' (March 11, 2012) is over. Nevertheless, you will find the various sponsoring opportunities and prices very attractive. And by the way - your sponsor-fee reduces as you renew your contract!
Further information is available in our Advertising Rates.
---

Paper
12. December 2011 by Ingo Frost, Kathrin Frank
The authors of this article address the question of how organizations will deal with knowledge in 2020. For this purpose, they first analyzed national and international knowledge management conferences, publications and Internet publications to locate knowledge management visionaries. Four visionaries are mentioned, due to their keynotes and their publications on knowledge management trends: David Griffiths, Dave Snowden, David Gurteen and Norbert Gronau. They are presented here along with their theories and visions for dealing with knowledge. Following the presentation, these theories are compared and discussed. [more]
---

Paper
19. February 2012 by Nick Johnson
The Internet is revolutionizing higher education: accredited online colleges are growing in size, traditional colleges are adopting online programs, and all trends indicate that distance learning is not only here to stay, but that it will make an unprecedented impact on the educational systems currently in place today. What kind of change will online college courses provoke in the paradigms of students, professors, and educational institutions in the coming years? Let's take a look. [more]
---

Open Journal
18. October 2011 by Daphne Gross
This year only German papers made it into our best of. The fourth Journal of Knowledge Management presents the most popular articles by our readers.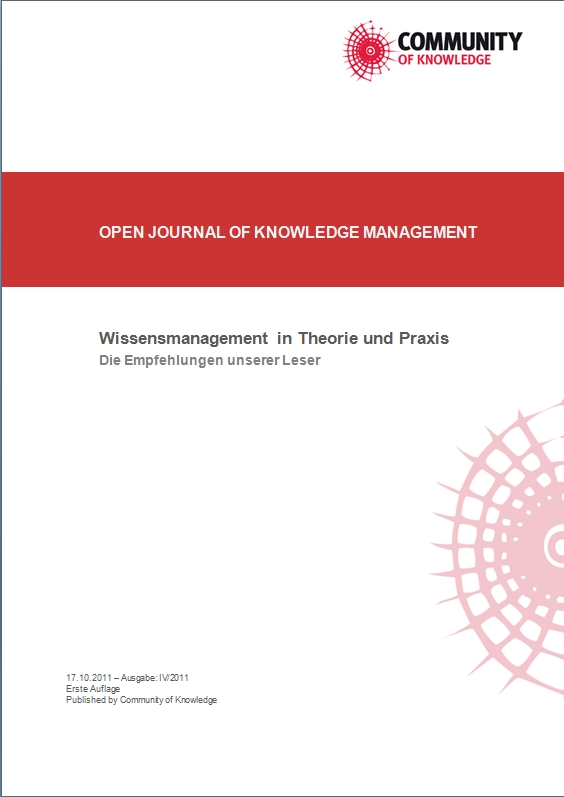 ---

Paper
Dr. Auer was interviewed by the Semantic Web Company
16. June 2011 by Dr. Sören Auer, Thomas Thurner
The paneuropean Project LOD2 (Linking Open Data) is one of the biggest projects dealing with linked data. Scientists, programmers and software architects in various european countries are working on the next generation of linked open data. In a series of interviews Thomas Thruner of the Semantic Web Company (SWC) is presenting people working on and with LOD2. As a start SWC talked to Sören Auer, head of the LOD2 project. [more]
---

Paper
Case study about a Knowledge Management project at West Africa Water Initiative (WAWI)
16. May 2011 by Ewen Le Borgne, Jaap Pels
A team visited and interviewed implementing partners on the ground in Ghana, Mali and Niger to document their experiences within West Africa Water Initiative (WAWI). The aim of these missions was literally to find facts, to collect documentation and figure out what lessons have been learned. These fact-finding missions have provided invaluable insights. They have been incorporated in this document which formulates a feasible and practical strategy on knowledge management and communication for WAWI and its successor projects in West Africa. [more]
---

Open Journal
16. May 2011 by Daphne Gross
Work experience abroad is almost taken for granted. However in international collaboration cultural and language barriers appear in work routine every day. In our call for papers we asked: How does knowledge management look like beyond borders?
---

Paper
31. March 2011 by Redaktion, Daphne Gross, Ingo Frost
The article presents the most popular wiki solutions and provides an analysis of features and functionalities based on organisational needs for the management of knowledge. All wiki solutions are compared to usability, search function, structuring and validation of knowledge. [more]
---

Paper
Case study: Saveh rolling & profile Mills company
21. February 2011 by Yasaman Farashahian, Amin Abbasi
Business enterprises typically are valued at the net tangible assets recorded on their books. When the market value of a firm succeeds its book value, conventional stock market theory regards the premium as the market's assessment of intangible assets or intellectual capital of the firm. Svieby classified intellectual capital into three categories: employee competence, internal structure and external structure. The managing and measuring of intellectual capital are widely discussed in commercial applications. The implementation of key factors in intangible assets using indicators in day-to-day operations highlights the company's value in creating processes. Many other firms apply similar frameworks in managing their intellectual capital, for example: Exxon Chemical's, "Learning Forums"; World Bank's, "Communities of Practice"; Toyota's, "Alignment Rooms"; Ryder Trucks', "Knowledge Center"; Allied Signal's, "Mental Model Learn"; and Scott Paper's "Real Bottom-Line Customer Service". The purpose of this paper is to explore how an organization can adopt the concept of knowledge management and subsequently measure the intellectual capital - specifically in our company. [more]
---

Paper
interview with Dr. Richard Straub, Senior Advisor of the Chairman of IBM in Europe, Middle East and Africa
01. October 2010 by Dr. Richard Straub
The congress Professional Learning Europe will take place in Cologne from October 12th to 14th. The organizer talked to Dr. Richard Straub about learning in the Enterprise 2.0. [more]
---

Paper
07. August 2010 by Andreas Neef, Markus Heckner
Organizations need the right information at the right time to make accurate decisions and to optimize business processes. Yet the role of information, and the way an organization's employees interact with that information, is rapidly changing. With this continuous challenge to established paradigms, organizations need to rethink their whole approach to information management if they are to remain innovative and competitive. Working with forecasting consultancy Z_punkt Accenture evaluates the key trends that will shape information practices in the near future and provides thought-provoking insight into how organizations might successfully manage information as a means to achieve high performance. [more]
---

Paper
29. March 2010 by Heiko Haller
kNet is the vision of a future knowledge-sharing platform. In a fictitious scenario, this article describes how certain semantic Internet services could support scientific knowledge sharing and leverage knowledge transfer. In the following discussion, the core features of this platform are discussed and compared with existing state of the art systems. [more]