Open Journal of Knowledge Management - Issue V/2012
Tops and Flops - Case Studies of Knowledge Management
(Erfolge und Misserfolge - Fallstudien im Wissensmanagement)
Issue V/2012, 02. July 2012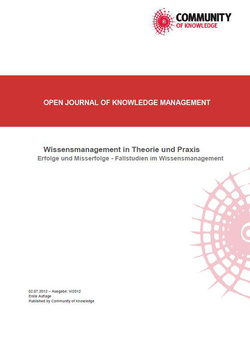 In the call for papers for the Open Journal's 5th issue, with the title "Tops and Flops - Case Studies of Knowledge Management", we focused on KM practice.
We chose five examples out of the submitted papers, which represent the diversity of KM application-fields. These are not only success stories, but they also expose the reader to problems and chalanges in the implementation process.
Amongth the interesting articles we have two articles in English. The first is by Milad Jasemi and Morteza Piri from Iran and the second is by Aleksandar Ivanov from Germany.
The Journal is available as PDF under a CC-License.
---
---
Acknowledgements to our jury:
---

Licensed under Creative Commmons License