KM in practice: methods and tools
"KM in practice: methods and tools"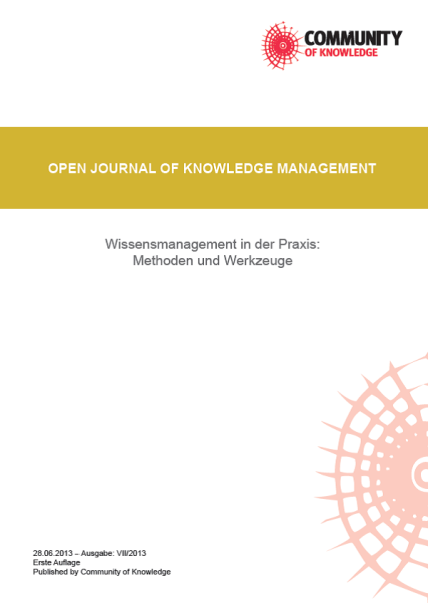 Which methods or tools do you use to exchange knowledge with people in your organisation or with your customers? Share your experience and tell us about of the methods and tools! When is a knowledge management tool not useful? What is your recommendation to organisations that intend to implement one of the presented methods or tools? What are the methods or tools organisations should use? How is it beneficial to organisations to use your preferred method compared to other established methods. Please note that the submitted articles should provide value to the audience. Promotional articles do not meet our strict quality standards and are not accepted.
The Journal is available as PDF under a CC-License.
---
---
Acknowledgements to our jury:
Alexander Katzung, Airbus, Knowledge Management
Dr. Peter Heisig, Leeds University Business School, Senior Research Fellow
Dr. Andreas Brandner, KM-Academy, Geschäftsführer
Julia Endt, SMA Solar Technology AG, Knowledge Management
Prof. Dr. Stefanie Lindtstaedt, Knowledge Management Institute (KMI) an der Graz University of Technology (TUG) und Know-Center GmbH, Prof./Geschäftsführerin
Christian Keller, ck2 Beratung für Wissensmanagement, Geschäftsführer; Exzellente Wissensorganisation, Koordinator
---

Licensed under Creative-Commmons License